Our sunny natural rock climbing wall (a.k.a. our rock climbing 'garden') is located approximately 15 minutes above the hut in the southerly direction of Sulzenau Glacier. On the large glacial cutting you'll find 17 climbing routes, from easy to difficult. On the far east border there is a small but fine exercise climb with approximately 50m of steel cable constantly in position.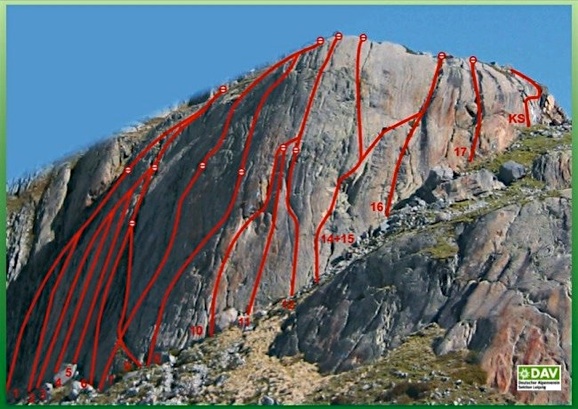 Besides the exercise climb in the rock climbing garden, there is also a short but spectacular climb in the Sulzenauschlucht (Sulzenau canyon), which takes you directly to the hut. On the eastern edge of the river, it is easily possible to climb down into the canyon using our fixed rope trail. Climbers preferring an easier climb can use the same trail to climb back out of the canyon. Those wishing for a challenge can use another newly built fixed rope trail, which crosses the canyon to the western side.
Here is our WildeWasserWeg rock climbing map.